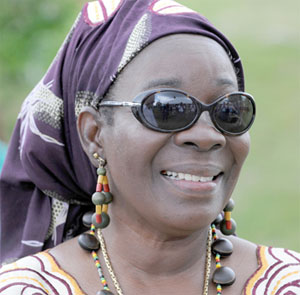 Rita Marley, wife of the late reggae music icon, Bob Marley, has agreed to participate in this year's Felabration Festival; just as one of the sons of the late reggae legend will be performing with his band at the week long annual festival.

At a meeting in Ghana last week with Yeni Kuti, founder of the Felabration brand and Mr. Theo Lawson, Chairman, Felabration Organising Committee, Mrs Marley agreed to be a Special Guest Speaker at this year's Felabration Symposium. This year's symposium topic is; Movement of the People: The Fela-Bob Marley Perspective.
Recall that both Fela Anikulapo-Kuti and Bob Marley popularised the theme "Movement Of The People" in their various works. Fela's political party was called Mvement of the People (MOP) and he also waxed a hit tune by that same title. Bob Marley on the other hand, had a hit album titled; Exodus: Movement of Jah People.
This year's Felabration Festival's theme is fashioned to rekindle the people oriented messages these two mega stars imbibed in their days.
Meanwhile, one of Bob Marley's reggae super-star sons is billed to perform as one of the star acts in this year's Felabration Festival. He has agreed with the Organisers of the Festival to break out of his current global tour to honour the Movement of the People. He will share the stage at some point in the Festival with Afro beat king Femi Kuti and his younger brother Seun Kuti, who currently leads Fela's Egypt '80 band.
Remarkably both Fela and Bob Marley never shared a common stage throughout their playing lives despite the mutual respect they had for each other. This year's Felabration Festival will run from October 14 to October 20
beginning effectively with the symposium