ACTOR Paul Campbell is not satisfied with the film roles coming his way, but says he accepts them to stay in the system.
CAMPBELL… I want that role that will allow me to use my diction (PHOTO: NAPHTALI JUNIOR)
Speaking at the Jamaica Observer's Monday Exchange, Campbell added that the lack of suitable roles may be due to his turn as a heavy in films such as Dancehall Queen and Third World Cop.
"I am not only a bad guy. I want that role that will allow me to use my diction," he stressed. "That strong character — the eloquent lawyer — that's what I would like."
Campbell, who also had an endearing role as Aloysius in The Lunatic — the screen adaptation of the Anthony Winkler novel of the same name — is in Jamaica for the premiere of his latest film, Home Again.
"Paul is where the money is," joked Campbell, in his signature tone when asked about other films.
"I have been working on a few projects, Home Again, Out The Gate, Machete Joe, and now filming Jamaican Mafia in Brooklyn, New York. But like everybody who is not getting the roles we want, I am looking to roll out my own production company to produce material for film and television," he explained.
Campbell said he would love to return to Jamaica and make movies but stated the local industry is stagnant.
"There are too many obstacles. We have to educate our people about the benefits of shooting a film here in Jamaica. Our people must know that it's not good to block roads and delay a film shoot. The authorities must also be educated on the benefits of developing our local film industry," he said.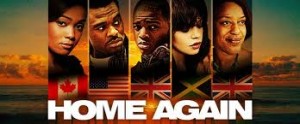 Despite this, and the lost opportunity to shoot Home Again in Jamaica (the government and the local film community ignored repeated requests from producers to assist with funding), Campbell sees the low-budget film as a watershed moment for interested parties to build a viable Caribbean film industry.
"Let us take the opportunity to come together as a Caribbean. Use all the resources and make it happen, Home Again is just the tip of the iceberg. We have lost a lot, but there is so much more," he said.
Campbell plays Uncle Archie Morris In Home Again which opened in March. It was scheduled to premier last evening at the Carib Cinema in Kingston.
Directed by Jamaica-born, Canada-reared Jennifer Holness, Home Again examines the challenges of three persons deported to Jamaica from Canada, Britain and the United States.
It stars Tatyana Ali of The Fresh Prince of Bel Air fame, and Jamaica-born Canadian Lyriq Bent.
By: Richard Johnson