By Davina Henry–
Fly Jamaica officially unveiled its four brand ambassadors in a ceremony for the airline's inaugural flight from Jamaica to Guyana. The function took place at the Cheddi Jagan International Airport in Guyana.
All four ambassadors – Agent Sasco, Wayne Marshall, Tifa and Denyque, were on-board the flight. They also delivered impromptu performances at the ceremony.
Speaking with The Gleaner, Agent Sasco said it is a pleasure to be associated with the airline. "I came to Guyana on previous occasions, so I can truly appreciate this direct flight from Kingston. In the past, you would have had to do a lot of island hopping and stopovers, and that was like a seven-hour ordeal. With this direct flight it's less than three hours, so I really appreciate that," he said.
Denyque stated that it was a humbling experience to be one of the airline's brand ambassadors. "Being an ambassador for Fly Jamaica is an amazing feeling. This experience is really humbling, and I look forward to an amazing year with the airline," Denyque said.
Captain Ronald Reece, CEO, Fly Jamaica, said the airline's aim is to join two countries via an air bridge. He added that it is also the organisation's hope that citizens of both countries can benefit from increased trade and tourism.
After performing some of his hits, including Good Love and Overcome, Wayne Marshall said the direct flight between both countries will enhance regional integration.
DREAM A REALITY
"I have to say nuff respect to the Fly Jamaica team and Captain Reece for making the dream a reality. I'm sure this will now improve the relationship between both countries, and improve the exchange of energy, and improve the entertainment industry as well. A big deterrent for persons to come to Guyana was the long travelling time. So I know people will now be more willing to take a trip to Guyana now that there is a direct flight." Marshall said.
Tifa agreed, recountig to The Gleaner that on previous occasions it took her over seven hours, including several stops to get to Guyana from Jamaica.
"It's an awesome feeling for somebody in dancehall to represent a brand, especially an airline. It's a wonderful feeling. I'm elated about this, and this can only boost business relations between both countries," she said.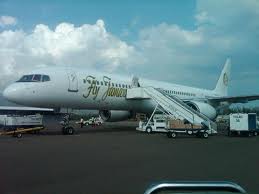 The ceremony came to an end after the brand ambassadors performed some of their biggest hits. Denyque did Hooked On Me and Make Me Feel You and Agent Sasco requested The Almighty Protect We.