October 5th marked the 65th anniversary of the birth of the late great Jamaican singer, Delroy Wilson.
A legend in his own right, Wilson was perhaps the most important individual to have walked through the gates of Clement 'Sir Coxson' Dodd's revered Studio One (not yet named Studio One when he made that trek in 1962), at 13 Brentford Road in Kingston.
Wilson was barely out of short pants and still attending Boys Town Primary School at the time. Along with keyboard maestro Jackie Mittoo, Wilson was easily one of the cornerstones on which Dodd built his illustrious and famous record label.
Wilson's efforts have inexplicably gone unrewarded for years, while others, less deserving of recognition, have been decorated with national honours.
It is with a breath of fresh air that we have learnt from informed sources, that Wilson, affectionately called 'Saddle Head' and 'The Dean of Reggae', will be accorded a national honour later this month.
Wilson's heroics spanned some three decades, from the 1960s to the 1980s, during which time, he covered, with distinction, all the popular genres of Jamaican music – ska, rocksteady, reggae and dancehall – with a plethora of hits, an achievement which very few, if any, can boast.
Before the arrival of Bob Marley, Bob Andy, John Holt, Dennis Brown, Ken Boothe, Leroy Sibbles and others to Studio One, there was Delroy Wilson, to whom they all looked up for inspiration and guidance.
Brown admitted that Wilson had an enormous influence on him and called him 'Teacher', acknowledging Wilson's pedagogy by covering some of his songs.
Errol Dunkley, to a lesser extent followed the trend, but was summarily rebuked by Wilson in the recording, You Trying to Conquer Me.
Others would rush to Juke boxes after studio work to punch Wilson's recordings, wistfully thinking that they would be able to emulate him some day.
Wilson was indeed the trailblazer and the one who laid the foundation for all who followed to build on.
Many of Wilson's recordings, tell the tale of a man who was musically inspired by many travails of the heart, in which women played a major part, and by his frustration in not reaping due rewards for his efforts throughout the years.
Many observers believe that this frustration led to heavy drinking in later years, and culminated in his demise at just 46.
Studio One career
Wilson's early years at Studio One, understandably, were a far cry from such sadness. He was a happy, vibrant 13-year-old when he began his entertainment career at Studio One in the very year that Jamaica gained Independence. He arrived at a time when Dodd had just returned from the United States to find the music scene dominated by his ex-employee and now rival, the very flamboyant singer and producer, Prince Buster.
Wilson's arrival was opportune as it provided Dodd with the ammunition he needed to re-establish himself as the top record producer of the early 1960s.
The young Wilson provided a barrage of songs aimed at Buster.
"I was the missile that could get rid of Buster," Wilson had said.
The first of the batch was a scathing attack, titled, Joe Liges (One hand wash the other, but you don't remember your brother, Joe Liges stop criticise). It was a response to Buster's One Hand Wash the Other.
Possessing an abundance of dancing skills, patience and songwriting ability belying his age, Wilson followed up with One Two Three, Prince Pharaoh Go Down, The Lion of Judah, I Shall Not Remove and Don't Forget Your Nest, in which he admonished Buster:
Don't you forget that nest where you used to rest
For you, the Sir has done his very best.
You are ungrateful to call him a fool.
Child star
A diminutive performer, Wilson was Jamaica's first child star. By late 1966, the music had begun to change to a slower, more elegant and rhythmic form called rocksteady, and Wilson's voice broke just in time.
His version of the Tams Dancing Mood, was widely accepted as the first Jamaican record to demonstrate that change. The song was Wilson's biggest, rising to No. 1 on the charts.
Employing a similar beat while still with Dodd, he ventured into areas of romance with some unforgettable lyrics on, Cant You See, Why Do Lovers, Somebody Has Stolen My Girl, Troubled Man, It's Impossible, and Ungrateful Baby, which tells the tale of a man who fate has dealt many blows (he even lost an eye parting a fight at school).
The recording which Delroy told me was his favourite gave full expression to his emotions in one of music's most heartbreaking laments:
I saw you pack your things and say you're gonna leave me, I don't know the reason why
Just because you found somebody new, you wanna leave me to cry.
Although I broke your heart and tore it all apart, please don't treat me this way
Remember what you say, you'll never be this way
And still you broke your promise to me.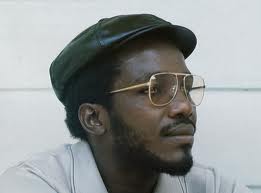 Hits
As rocksteady picked up momentum in the late 1960s, Wilson delivered with some big hits, many hitting the top 10 on the charts.
It's hard to forget cuts like I'm Not a King, Rain from the Skies, Trying to Conquer Me, Once Upon a Time, True Believer in Love, I Don't Know Why, Feel Good All Over, How Can I Love Someone, Have Some Mercy and Won't You Come Home.
Wilson's contribution to Jamaican music seems limitless, as many of these rhythms were copied to the benefit of latter performers, and when he decided to give vent to his feelings in the recording, Better Must Come in 1972, it was used by a political party to garner votes for a general election that same year.
broyal_2008@yahoo.com