Sean Paul
By Hasani Walters
"Is a lot of talk about me and what I've done. To me, I know what I've done in life and mi nuh tek back nuh step that I've made," Sean Paul told The Sunday Gleaner.

The Grammy-winning entertainer, who has found huge success on the international stage, is adamant that this success did not come as a result of him 'selling out', as the talk in dancehall circles has suggested.
Several pop songs from the artist have led to these talks.
He said that many were confused when he started doing pop music, but he was simply doing what was best for his career, while waving the Jamaican flag.
He explained that dancehall music was having a good run internationally in 2001 to 2003.
"Beyonce was coming here to look for tracks and checking out things, Rihanna get her buss from a dancehall-sounding track, Keyshia Cole did work with me." he said as examples.
Fast forward to about 2009, he said, Elephant Man, Cham, Serani and Mavado were some of those who were getting international attention. But none were really hitting the charts. It was then that he upped the game.
"My philosophy was like, try to get into that market in whatever way possible. So I started to do remixes for people, started to do different songs, and that started to get me some traction to keep waving dancehall, reggae, Jamaica's flag, musically. It meant that I had to blend my sound, talking on an international level. It was the first time that I ever had to do that," he said,
He then tracked back a bit.
Sean Paul explained that his albums, such as Stage One (2000), and Dutty Rock (2002), reflected "all the best riddims that were going on in Jamaica".
He added that around that time, there were several rhythms which blew up in Jamaica, but didn't make the journey overseas.
"The international market kinda looked at reggae and dancehall as a confusing scene because they don't get the language. They don't understand the patois that a lot of us speak. Reggae is a little different, but for dancehall we've always had that problem. And we had contenders such as reggaeton."
He explained that when reggaeton came into play, millions of Latin Americans in the United States, Central and South America were following the dancehall knock-off.
"So when that music blew up, it took away a lot of our crowds, so those type of things kinda impacted on our sales and our popularity as dancehall artistes on the international scene," said Sean Paul.
He said that dancehall was still being supported by persons world-wide, "but in terms of being the hottest music on earth as it was in 2001", it wasn't.
"When we talk about big crowds in Jamaica, it's nothing compared to the crowds I'm seeing at these Electric Daisy concerts; 150,000 people at those concerts! So for me to see those crowds and say I want to be in those crowds. Plus I'm now 15, 20 years into the game. They're kids who were five years old when I started and now they're 15, 20 years old. So for me to wave the flag, I have to wave the flag in their face … with Stargate, with Benny Blanco, with people that are producing the music that does get into those 150,000 venues."
He continued, "So where people would have been confused, some people kinda cuss me to the point where is like yow yuh sellout!"
Sean Paul said that in 2006, dancehall was quite popular. That year, he won an American Music Award, a feat no Caribbean act was near.
"So at that point, I'm like okay … , I come from the roots, but do I remain in the roots at this point? Do, I not try to bear the fruit from the tree that it has grown into? I'm a huge tree right now, no longer just the root, (but) cyaah dis the roots and I kept working with dancehall producers, (like) Stephen McGregor, Don Corleon"
"The past two albums, I've been dabbling with the reality that other people want to work with me and same time, still bridge the gap with what's happening here in Jamaica and what's happening abroad," said Sean Paul.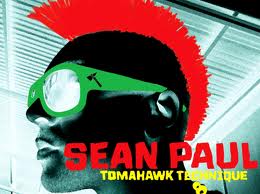 Tomahawk Technique (2011), which featured hits such as Got 2 Luv U and She Doesn't Mind (both produced by Stargate), has opened many doors for him.
His upcoming Full Frequency album already has several big names on the production and collaboration line-up.
Among them, are artists such as Damian Marley, Iggy Azalea, 2 Chainz, Juicy J and producers such as Polow da Don, Akon and Benny Blanco of Stargate.