ETANA
By Davina Henry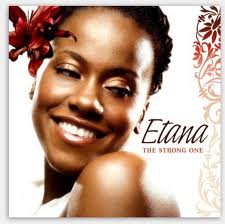 On the heels of a successful American tour and several new singles, reggae singer Etana has opted out of a recording contract with VP Records.
Etana, who has been signed to the international label since 2007, was under a publishing and recording contract. The terms of the agreement were that Etana would release one album with VP having the option to do three more albums with her.
"I have one more album which I'm currently working on. After that album is complete, I will no longer be a VP artist. There are other ways in which an artist can continue business with a label or distributor without signing a recording contract," Etana told The Sunday Gleaner.
She also admitted that there were several pluses and pitfalls of being signed to a major label.
One of the pluses, she stated was that it is the label's job to market and promote the artiste. That marketing and promotion has the potential to propel an artist in ways that a manager and/or the artist would not be able to.
"When signed to a major, you're not as free to go and record anywhere and with anyone unless the label approves the recording and an artist can be dropped if the company believes they will not recoup monies invested, or if the records or album flops. Being dropped from a label isn't so nice, I guess, because other labels may think twice before taking you aboard. Also being signed to a company which does not promote or do enough PR or marketing can also be agonising. The label can also shelf an album and do nothing with it."
"VP is a small label, though they handle so much of reggae across the world. I only wish that they would actually invest a little more as opposed to sit and wait for the artiste's management to make a song more popular or wait for a major label artist (hip hop, R&B or pop artist) to jump on a reggae song to make it more popular before they get behind a song in promotions. Even that 'get behind' isn't very much," Etana stated.
Etana isn't alone in her decision to opt out of a recording deal with VP records. Just last year, TOK was officially released from their contract. The group, which consists of Alistaire 'Alex' McCalla, Roshaun 'Bay-C' Clarke, Craig 'Craigy T' Thompson and Xavier 'Flexx' Davidson, described their partnership with VP as 'bittersweet'.
Bay-C had told The STAR that the albums had been taking a long time to be released and based on that, they were tied to the label for a long time.
"Nuff respect to VP Records, they helped to build our brand around the world. However, for many years, we felt as if our hands were tied and we made the move to get out of the contract. We did what we had to do and at the end of the day, both parties are comfortable."
Just one year before, Mr Lexx also parted ways with the record label, stating that he will now have control over the kind of music he puts out to his fans.
Etana says there are many reasons major acts leave record labels.
"It could be they were not advised properly by an attorney before signing their agreement, so they believe they are being cheated or wronged by the company. It could be that the company is taking full advantage of any loopholes the artiste were not aware of or that the artiste believes there are better deals out there, who knows?" Etana said.
Etana believes that the label hesitates to get behind a female artist. "The fight is always a little harder and a little longer, but one thing for sure, is it's consistent. Eventually though, they may give in a little."
"I am happy that a woman had her part in starting VP 'cause sometimes, only she understands what it's like to be a woman in reggae. I don't want extra or a back rub because I am a woman. I want to be viewed as an artist, not a female artist. When I break my back working hard, I wish that a finger would be lifted by VP based on the fact that I am a signed VP artist who should be supported fully by them. It's not personal, it shouldn't be, it's all business and should be treated as such."
Etana also had advice for young artists looking to make the same move.
"Ensure your manager has some knowledge of the business. Find the best attorney you can afford and do not sign away your publishing. If you do decide to sell 50 per cent of your publishing to a publisher instead of getting your own publishing company and hiring an administrator, then be sure it is agreed upon that they will only have it for a period of time and after that period expires, then your fifty per cent of publishing or administration rights is returned to you. Do not sell any percentage of your publishing for the life of the songs."
She also urged artists to value themselves and their music. "Pay keen attention to every detail and never think that because they are nice, they like you! Everyone is nice and believe me, when they want nothing from you, you will know. When you're hot you're king or queen, you get pampered. Enjoy it, but be smart and ignore the hype. Respect goes a far way, even the janitor is important," she noted.
Etana told The Sunday Gleaner she prefers being a Freemind Music (her own label) artiste and partner with VP as album distributors.
"Now that I am in full control of my publishing again, I am in a better place creatively, and I'll definitely be doing more videos and recording a whole lot more. I'm grateful that VP took the opportunity to do one video for the third album, Better Tomorrow. That song is called Reggae and it's doing very well across the world. I can tell wherever I go, how much the people are into it; they sing and rock so hard. Though I have one album left to go as a VP artiste, there is still much more to come! I am super grateful to all my people in Jamaica who've been supporting me from day one till now."