By Barbara Gayle—-
The Supreme Court today threw out a request by lobby group Jamaicans for Justice (JFJ) and the Marcus Garvey Political Party to join as an interested parties in the suit brought by gay rights activist Javed Jaghai.
Jaghai in his suit is challenging the buggery law.
The political party said it was representing Rastafarians.
In turning down the application, Supreme Court Judge Lennox Campbell said the applicants did not show that they had sufficient interest in the subject matter.
However, woman's group, Caribbean Dawn, was allowed to join to support Jaghai on the basis that it had relatives who were homosexuals.
Attorneys-at-law Michael Lorne and Susan Dodd, who represented the Marcus Garvey Political Party, said the party was applying to join the other interested parties in the case as it wanted to oppose Jaghai's claim.
Dodd said the judge, in dismissing the application, said the party did not show that it represented the people of Jamaica.
She said although she tried to convince the judge that the party represented the Rastafarian people and the organisation was an African Party, the judge refused the application.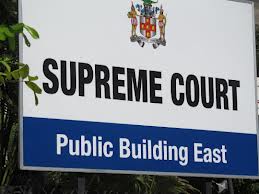 JFJ wanted to join the proceedings to support Jaghai.
Jaghai, who is being represented by attorney-at-law Maurice Tomlinson, a gay rights activist, wants the court to determine if the anti-sodomy law breaches rights guaranteed under the Charter of Fundamental Rights and Freedoms which he contends guarantees the right to privacy.
Today, Solicitor General Nicole Foster Pusey and attorney-law Carlene Larmond, who represents the Attorney General, applied to strike out sections of Jaghai's statement.
The Attorney General is the defendant in the case.
The lawyers claimed that some of his evidence was based on opinions and not of his knowledge.
Justice Campbell is to rule on the Attorney General's application next week Tuesday.
Several Christian denominations and advocacy group including the Jamaica Coalition for a Healthy Society and Hear the Children's Cry have been given permission to join the case as interested parties.