Reggae legend Jimmy Cliff surprised his former backing singer Tessanne Chin by calling in to a U.S. news show during a live interview to congratulate the singer on winning the latest season of America's The Voice.
The Jamaican native, 28, was crowned the champion of the talent competition earlier this week and she was in the middle of a press appearance on Access Hollywood Live on Thursday when producers received a phone call from her former boss.
Quoting a lyric from his classic You Can Get It If You Really Want hit, Cliff told the stunned singer, "I said it before… Tessanne is the voice in The Voice… Tessanne already know that… you can get it if you really want… Now the door (of opportunity) is open so I know you're gonna take advantage of this open door."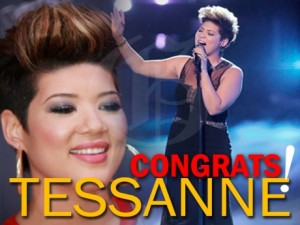 After the unexpected call, Chin admitted she learned everything about music and performing from the veteran icon after touring with him for three years.
She said, "That's beyond awesome. He gave me my start. He was my college. That's my university right there. He gave me a chance and I was so green. I'd never gone anywhere and he gave me a chance to travel the world and sing and get paid, which was a lotto ticket for me back then and I have such great memories because of him."
Chin also revealed that another reggae star had played a key role in inspiring her to audition for The Voice: "It was Shaggy's idea. Shaggy is one of my mentors, real life mentors in Jamaica and he's always looking out for the younger generation and is very much a humanitarian in Jamaica, and he was like, 'Tess, there's this opportunity and I really think you should capitalise on it.' He knew that I was kinda struggling to break through in that way. I was very afraid of it (auditioning) but I thank god…"