ELIZABETH, N.J. — Eight demonstrators tied themselves to one another wrist-to-wrist in the falling snow Tuesday morning, and lay down across the road in a human chain, blocking access to an immigration detention center in Elizabeth, N.J. Detention officers on their way to work waited in a line of cars stretching down the street.
For nearly a minute, the steady blast of a car horn drowned out the sound of the protesters' chants. By the time the police arrested the protesters about a half-hour later, snow had begun to pile up on their bodies, hiding the slogans on the T-shirts they had pulled on over their sweaters.
The protest was the latest in a recent series of demonstrations aimed at urging President Barack Obama to stop the deportation of undocumented immigrants. In the past year, supporters of immigration rights have expressed growing frustration with the president, who has overseen the deportation of nearly 2 million immigrants during his time in office, far more than any other president in history. With a deeply divided Congress now nearing its holiday recess, it seems nearly certain that another year will pass with lawmakers failing to make any headway on immigration reform.
In November, immigration-rights activists made headlines by interrupting the president during a speech in San Francisco, demanding that he use his executive powers to stop deportations of immigrants who would gain legal status under reform legislation. A few days later, Obama met with activists who have been staging a hunger strike for nearly a month in a tent on the National Mall. Since September, more than 80 people have been arrested in more than half a dozen protests around the country.
Jorge Torres, one of the protesters who was arrested, denounced Obama as the "deporter-in-chief," a term that has become popular in immigration-rights circles.
"The president can't be the deporter-in-chief and a champion for reform at the same time," Torres said. "If he wants to help immigrants he can start by not deporting them."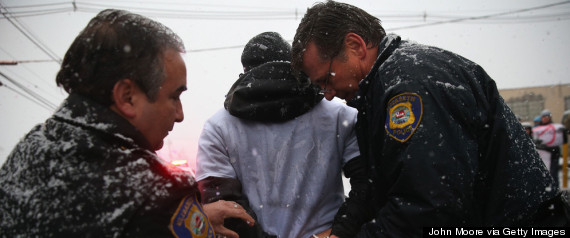 Protesters were arrested on Tuesday at the immigrant detention center in Elizabeth, NJ.—
Last year, Obama used his executive powers to halt the deportation of young immigrants, but he has declined to extend this protection to other immigrants, arguing that such a move would amount to a blatant act of disregard for the law. Since arriving in office in 2009, he has pushed for legislation that would allow the country's 
some 11.7 million undocumented immigrants
 to remain here legally. In the meantime, as a faction of congressional Republicans continues to resist demands for reform, 29 congressional representatives 
have joined activists
 in calling for Obama to put an end to the deportations.
The White House was not immediately available for comment.
B. Loewe, an organizer with the National Day Labor Organizing Network, one of the groups that participated in Tuesday's demonstration, said that people in the immigration reform movement are "refusing to accept inaction as the result of this round of the immigration debate, when there's such immediate relief available in the stroke of a pen for a president."
"This week Congress will fail to pass immigration reform for 2013, but that doesn't mean that the president has to fail in his responsibility to help immigrant families," Loewe said.
In addition to demanding an end to deportations, protesters at Tuesday's event hoped to draw attention to the plight of immigrant detainees, the fastest-growing segment of the American prison population. A U.S. law passed in 2006 requires the Immigration and Customs Enforcement agency to detain an average of 34,000 people a day, a goal that has risen steadily since the policy was adopted. This "bed mandate," as the policy is known in Washington, has been a boon for private prison companies, including the Corrections Corporation of America, a major prison contractor that runs the Elizabeth center and many other facilities around the country.
"Our facilities provide much better conditions and far more appropriate housing for detainees than hard jail facilities. Our professionals are deeply committed to treating those entrusted to their care with fairness, dignity and respect," said Steven Owen, the senior director of public affairs for CCA. "We also understand and appreciate that our services are one of a number of solutions being considered and implemented by government."
Critics of detention and incarceration policies often say that the government unjustly "warehouses" people. In case of the Elizabeth detention center, the cliche is literally true. The center occupies a former warehouse, a sprawling, two-story structure of dirty beige bricks in an industrial neighborhood on the outskirts of Newark. It can hold up to 300 people at a time, some of them for up to a year as they fight in court for the right to stay in the U.S.
Rosa Santana, an organizer with an immigrant-rights group called First Friends, said at the protest that she first visited the center three years ago, after her uncle was arrested and detained there. Her uncle, Alex Sunsin, had been living in the U.S. for 12 years, paying taxes and staying out of trouble, Santana said, when immigration agents pulled him over on a road in Saddlebrook, N.J., and placed him under arrest.
He had just returned from a trip to Disney World with his family and was on his way to his job as a mechanic in a carpet warehouse, not far from the human warehouse where he would soon be locked away.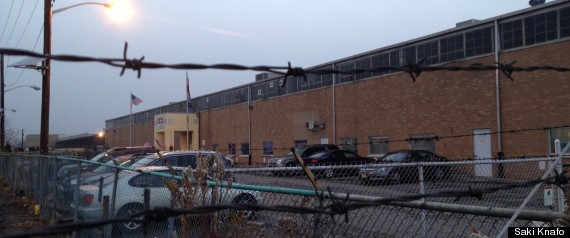 The detention center.
He'd held that warehouse job since his first few weeks in the country. "He went to work from 9 to 5, did odd jobs here and there," Santana said. "On the weekends, he would take kids out to eat or somewhere just to have fun. It was just a normal life."
After a month at the detention center, Santana was sent back to Honduras, which has the highest murder rate in the world, according to the United Nations Office on Drugs and Crime. Soon after he returned with his family, his wife and both of his children were robbed at knifepoint in two separate incidents. Sunsin and his wife decided to send their 12-year-old son, Jamil, back to relative safety of New Jersey, to live with Rosa and other family members.
Jamil was born in the U.S., but his younger sister, Mirka, arrived here when she was 1 year old. "There's nothing we could really do for her, because she's not allowed to come back to the U.S.," Santana said.
After visiting her uncle at the center, Santana learned of First Friends, which organizes detention-center visits for people who sympathize with the detainees and want to offer them some "moral support," as Santana put it. First as a volunteer for the agency, and then as a staff member, Santana has met with hundreds of detainees and listened to their stories.
"Most of the stories are the same," she said. "They come here to have a better future, to have the American dream. They work. They work very hard for their families. Most of the time they have family here and back home, so they work hard to provide here and back home, and their only problem is being undocumented."
UPDATE: 7:00 p.m. — Robert Whithorne, a White House spokesman, deflected blame for the deportations from Obama to Congress.
"We owe it to the American people to fix our broken immigration system once and for all so that the 11 million undocumented immigrants in this country can come out of the shadow economy and get on an earned path to citizenship that requires individuals to pass background checks, pay fines and taxes, learn English, and get to the back of line," he said in a statement. "Speaker Boehner can pass a bill today to do just that. We need an immigration system that lives up to our heritage as a nation of laws and a nation of immigrants. The vast majority of Americans wants Congress to move forward soon on fixing our immigration laws in a way that requires everyone to play by the same set of rules, improves our legal immigration system, includes a pathway to citizenship and strengthens our borders. It's time for the House to act."