Academy Award-nominated director Steve McQueen and actress Lupita Nyong'o on set of 12 Years a Slave.THE historical, epic 12 Years a Slave is one of the major contenders for this year's Academy Awards.
The nominations for this year's event were announced in Hollywood yesterday and 12 Years received nine nominations, trailing behind the con-artist comedy American Hustle and the 3-D space odyssey Gravity which lead the Academy Awards with 10 nominations each.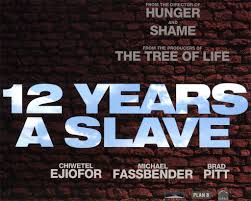 The British-born director of 12 Years Steve McQueen, who is of Caribbean stock, his mother being Trinidadian and father from Grenada, has been included in the nods for Best Director.
The film has also been recognised with nominations for Best Picture, Best Actor — Chiwetel Ejiofor; Best Supporting Actor Michael Fassbender; Best Supporting Actress Lupita Nyong'o; Best Adapted Screenplay John Ridley, Best Production Design; Best Costume and Best Film Editing.
The film snagged one award at the recent Golden Globes when it was named Best Drama.
The Academy Awards will air March 2 from the Dolby Theatre in the Hollywood.