By Michael Reckord—
Lovers of Caribbean (especially Jamaican) folk music have an offer of a special treat this weekend. It comes from the Cari-Folk Singers, who are celebrating their 40th anniversary with a concertseason at the Little Theatre, Tom Redcam Avenue, St Andrew.
Opening today and closing on Sunday the season, named simply Celebrating 40, features 40 singers and musicians performing 45 items over two hours. The story told is the birth, growth and current life of the ensemble.
Many and varied musical forms are employed in the telling. They are kumina and nine night (directed by Hugh Douse), reggae (directed by Grub Cooper), Caribbean island music (Noel Dexter), sacred music (Godfrey Taylor), and folk (Angela Elliot).
The show's artistic director is Winston 'Bello' Bell, while the National Dance Theatre Company's (NDTC) Kevin Moore is the movement director. Nadia Roxburgh is the lighting designer and Karen Bellamy the costume designer. Included in the group's band are master drummers Calvin Mitchell and Philip Supersad.
The contribution of these well-known names to the celebration might almost guarantee it would be good. After watching rehearsals the other night, I was convinced it will be excellent.
Before the group's leader, Patricia Newland, took them into the rehearsal, I had a chance to talk to both her and long-time member, Winston Cowans. He told me about the early years. "The group started out not as the Cari-Folk Singers," he said, "but as a group of Excelsior High School students entering the 1972 Arts Festival. The group of mostly sixth formers did fairly well and decided to continue singing together and add some structure to form a performing choir. That was when I was invited, as a KC [Kingston College] boy, to join."
There were a number of name changes. First the group chose Bedlam, without even understanding the meaning of the word, Cowans said, then they became The Bedward Folk Singers.
The Caribbean Folk Singers
It was as The Caribbean Folk Singers that the choir mounted their first concert season, Amen Hallelujah, at the then Creative Arts Centre (now Philip Sherlock Centre for the Creative Arts), University of the West Indies (UWI), Mona, in 1973. On discovering there was another group with that name, Cowans said, early in 1974, they adopted the current name.
The early leaders, he told me, included two ladies, Elsie Jankee and Diana Austin, neither of whom was around when the name Cari-Folk Singers came to be adopted. But they did pull in other leaders like Winston's brother, Gordon Cowans, Godfrey Taylor, Maurice Simpson, and Jasmine Burke Thompson, all Excelsorians.
Cowans named several other leaders over the years, including Kathryn Dyke (who arranged the largest volume of songs and was the longest-serving musical director), Raynor Lazarus, Carol Miller, and Thelma Campbell. The current leader, Newland, and Cowans, are the only remaining members from the early days.
Commenting on the fact that there have been so many leaders, Cowans said he regards it as a strength, not a weakness. Another strength, he said, was that the group is guided by a constitution.
He continued: "The first real musical director was a highly trained individual, Keith Gordon, at that time both the conductor of the Jamaica Military Band and also a music tutor at Excelsior. He was the one who started to organise us musically, showing us what the different parts were, and he accompanied the group as well on piano, but he was an excellent guitarist and had an LP of guitar music."
Gordon was a former student of the amazingly musically productive Alpha Boys Home. "Under him", an email from Cari-Folk secretary Yvonne Strong stated, "the group became a professional performing ensemble using drama and movement to enhance its singing. It delved into the folk forms of Jamaica, including dinki mini, Maroon, nine night, revivalism, and kumina. It also added cultural forms such as reggae and rocksteady, along with traditional and creative folk to its repertoire."
Another early instrumentalist was drummer Winston McAnuff, popularly known as the 'Electric Dread'. He is perhaps the only member of the group, according to Cowans, who has continued in music as a full-time performing artiste. Many other musicians assisted the group along the way, though for some concerts the group performed with only a drummer and a guitarist.
Cari-Folk has not been able to mount annual shows. "We skipped some years," Cowans said. "We couldn't keep up the momentum of the early years. We were teenagers and found it hard to get financial backing. I was 16 years old when I joined. None of the early singers was yet 20 years old."
Performed abroad
The singers first performed abroad in 1984, 11 years after their initial concert. This was in Panama at the Festival of David, an annual agricultural show. Since then, they have been to Cuba (Guantanamo Bay), about six times to the USA, Mexico, the United Kingdom and elsewhere in Europe. Their appearance at the first Choir Olympics (now called the World Choir Games) in 2000 in Linz, Austria, was of special significance to both Cowans and Newland.
Online research shows that more than 15,000 participants from 60 nations attended. Competing in 28 categories were 342 choirs singing in 403 competitions and the international jury included 51 choral experts. The games are mounted every two years in different countries.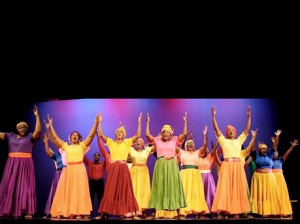 Against that background, even though I didn't know the details, I found Cowans' statement that "we maintain we have done much to change the whole concept of choral performances" intriguing. Newland later explained it. "Unlike the other choirs," she said, "we put movements to every song, even the a cappella ones. And we wore our colourful bandana outfits."
Laughing, she admitted "I get goose bumps just remembering it". Newland said that the next time the group went to the games, in 2004, they saw that every choir in their category was moving as they sang.
For Cowans, though, the joy found in the group comes not only from the singing. He stated: "The human relations are critical. If those are not right, it doesn't make sense. It's about people on a journey and we've had numerous wonderful moments together."
While I spoke to Cowans, the group's members, many apparently fresh from work, had changed into loose-fitting rehearsal clothes. After a quick vocal warm-up led by keyboardist Jermaine Gordon, they started singing and dancing to A Come Wi Dis a Come, a fitting opening for the rapid tale they'll be telling at each performance this weekend about their 40-year existence.
The Little Theatre's huge red curtain will slide open tonight and tomorrow at 8 o'clock. Sunday's matinee performance begins at 4 p.m.. A bit of a rest for the Cari-Folk Singers precedes a tour of Jamaica from October to December.