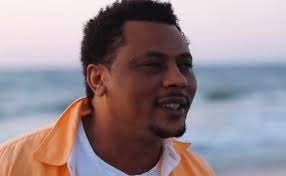 Danny, Washington DC, the US
Eyob Mekonnen toured the US, Canada, the UK and Holland in June
Fans of the 37-year-old singer helped raise money for his treatment after he had a stroke last Tuesday in the Ethiopian capital, Addis Ababa.
He was flown to Kenya on Saturday, but he died in hospital on Sunday.
"He has made such a mark on the Ethiopian music scene, bringing a unique and poetic voice with thoughtful lyrics and a beautiful reggae vibe," a posting on his Facebook fan site said.
"Start Quote
He was one of a kind… humble and extremely loyal"
Eyob AlemayehuManager and friend
The page was set up on the social networking site last week called Let Us Pray for Eyob Mekonnen.
Its postings kept fans up-to-date on his condition and appealed for financial help to organise his transfer from hospital in Addis Ababa to the Kenyan capital, Nairobi.
"He was one of a kind… humble and extremely loyal," his close friend and manager Eyob Alemayehu, from the music promoter Yisakal Entertainment, told BBC Africa.
"A man of his word, reliable, caring, a strong believer, very up front, talented and much much more," he said.
Born 1975 in the small town of Jijiga, in eastern Ethiopia, Eyob set up a five-man group called Zion Band, which offered a "reggae beat with a distinctive Ethiopian cast", Yisakal Entertainment said.
His anthems "promote morality, love, peace and social consciousness", the promoter said.
Eyob's debut album Kal came out in 2007 to great national acclaim and he had recently started his international career, touring the US, Canada and Europe in 2010, the company said.
A message on the Let Us Pray for Eyob Mekonnen page posted on Monday afternoon said the singer's body would be returned to Ethiopia on Tuesday and his funeral would be held on Wednesday.
Your memories of Eyob Mekonnen:
I have had a chance to meet this talented singer when one of my good friend promoted his work in Dallas, TX and brought him for a concert back in Sept 2007. Eyob was then on a rise as his new album "Kal" meaning WORD was hit album and he was recognised as new singer who brought new style of Ethio-Reggae music to Ethiopia and specially for the Ethiopian Diaspora. His message in the lyrics was very captive than just the melody itself. He preached about LOVE, RESPECT and HUMBLENESS in his music. Eyob will be missed as he will forever be remembered for his greatness in Ethiopian Music and his humbleness behavior. RIP
>

I had the opportunity to attend one of Eyob's concerts in New York city 2 years ago. Eyob became a legend with his first and only album and really unfortunate that he is gone too soon.

Benyam Gizachew, the US

Even though I had not been his particular close friend, he has been liked much by most of people including me, for sure Ethiopia has lost again a young popular reggae singer. I Pray to God to Put his soul in the Heaven and condolence for his families…

Lemma Gebremariam, Ethiopia

He was such heart moving performer. I used to attend his concerts and night clubs when i was in Addis. I will never forget those nights with Eyob rocking the stage with his extraordinary voice specially at club H2O and faranight in Addis Ababa. It will be great lose specially for Ethiopian music. We all were expecting his new releases not his death. It is just shocking news.

Alemayehu Chebude, Kuwait

I used to attend his concerts and night clubs in Addis. In addition to this, I hear his songs in my car, home and office. I was so obsessed with his songs .I also do physical exercise at the gym, talk with him in steam after exercise and He was really a nice person to talk and be a friend with. We all miss him… his loss is also a big loss for all of us!

Biruk Ethio, Addis Ababa, Ethiopia

I'm still in shock over this news. Eyob and I had become friends on Facebook after I discovered his music through a chance meeting with some world travellers that had his CD and let me borrow it. My band, All Night Pressure, were going to be his backing band when he came to California recently. Unfortunately, it never came to be as we had to finish our second record and time was pressed. The few times I spoke to Eyob, I could tell he was a genuine soul and extremely kind. His vocals are beautiful and haunting, though I know little to nothing what the lyrics mean. Another example of music transcending boundaries and borders. I'm extremely sad right now and I wish the best for his wife and family and offer my prayers in this tragic time. R.I.P. Brother.

Chris Ellis, Orange County, the US