Chronixx, performing at SOB's in New York (Marlon "Ajamu" Myrie—

On Sept. 17, SOB's nightclub in lower Manhattan presented the New York City debut of Jamaica's most buzzed about reggae act, Chronixx and the Zinc Fence Redemption. Throughout their 8-date Dread and Terrible east coast tour (so named for their forthcoming EP, to be released on Chronixx's label Zinc Fence Records) which concluded on Sept. 21 in Brooklyn, Chronixx and his band have played in mostly sold-out venues averaging a capacity of 600.
Throughout his 85-minute set, Chronixx, (b. Jamar McNaughton) — tall, casually dressed in a light blue denim shirt, khaki pants and a beige wool tam, a style reminiscent of the late reggae icon Peter Tosh — charismatically delivered his rapidly expanding repertoire of hit songs that have prompted the meteoric rise of his career over the past year. Many industry insiders, as well as fans, cite the 21-year old Rastafarian sing-jay as reggae's next superstar.
"I think it is the spirit within my music that has made it so popular, that's what people are feeling," Chronixx told Billboard.biz in a late July interview in Kingston. "In December 2012, everybody started to talk about Chronixx; before that I could walk on the road in Jamaica without anyone recognizing me… that is impossible now." Following the August 2012 release of the video for "Behind Curtain", a barbed commentary on false friends.
His stature has only increased with months of frequent airplay in Jamaica and a career-transforming performance on Dec. 4 at the weekly "Behind The Screen" series at Kingston's Tracks and Records nightclub/restaurant (Jamaica's six-time Olympic gold medalist Usain Bolt is a major stakeholder). The large turnout (which included Bolt) and the overwhelmingly enthusiastic response to Chronixx's set, as gauged through social media postings, newspaper reports and word-of-mouth reviews, confirmed that Chronixx was poised for greater renown.
Since the beginning of this year, Chronixx has appeared on every major stage show in Jamaica, including a primetime debut slot at Reggae Sumfest, the island's largest reggae festival, as well as having performed in more than 15 countries on four continents. In February he traveled to Kenya as a peace ambassador, to help diffuse anticipated election-related tensions there and to perform at the Tuka Rada Peace Concert in Nairobi.
Chronixx has emerged as a leading light among an unofficial consortium of young Jamaican Rastafarian acts, being branded as a "Reggae Revival." These "revivalists," including Dre Island, Jah Bouks, Jah9, Protoje, Kelissa (the opening act on Chronixx's US tour) and Kabaka Pyramid, who topped the Next Big Sound chart in early May, play consciousness-raising, spiritually enriching one-drop reggae, evocative of Jamaican music's (so called) '70s golden age — yet rife with contemporary influences.
Chronixx's lyrics range from topical anti-war statements ("Modern Warfare") to cautious romantic declarations ("Access Granted") to rousing anthems of resiliency ("Ain't No Giving In") which are enhanced in his live performances by audience interactions and an animated delivery, often punctuated by spins and leg kicks. His lithe vocals convey a righteous rage as persuasively as the abiding love he expresses for his native land on  "Smile Jamaica".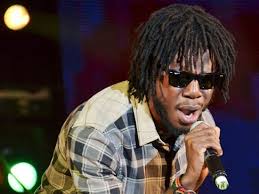 "Chronixx has mastered his sound within his range; he's got well-written songs, good production, and a solid performance with a good band — that's why the world will recognize him as one of reggae's greatest artists," says veteran sound system selector Walshy Fire (b. Leighton Walsh) of Miami's Black Chiney sound, now one-third of Major Lazer alongside Diplo and Jillionaire.
Walshy heard Chronixx's "Behind Curtain" and the contemplative "They Don't Know" and was so impressed he brought the artist to Kingston's Big Yard studios to record the mixtape "Major Lazer Presents: Chronixx & Walshy Fire – Start a Fyah," released in November 2012, which showcases the artist's singing, rapping and toasting (deejaying) skills over one-drop, dancehall and hip-hop beats. When Major Lazer performed to an overflow crowd at Kingston's University of the West Indies (UWI) in January, Chronixx was among their featured guest artists. "If someone is creating a buzz I want to facilitate them making bigger records; Chronixx is blowing up, he's definitely one of the most talented guys I have heard," Diplo told Billboard.biz.
Despite his young age, Chronixx is well-versed in the music business: As a teenager he wrote and produced songs for his colleagues and for his father, Chronicle, a singer best known in the U.S. for his recordings with New York-based producer Bobby Konders, host of "On Da Reggae" Tip on Hot 97. "When someone needed a riddim [rhythm track] or a song written they linked me. It wasn't difficult to switch to being an artist because whenever I wrote a song I would demo it, record it and send to the artist," Chronixx explained. Some of Chronixx's biggest songs, such as "Warrior," were initially offered to other artists. In November 2011 he released his debut EP, "Hooked On Chronixx" as a free download on Zinc Fence Records, the label he co-founded with producer Romain "Teflon" Arnett and co-producer/engineer Ricardo "Shadyz" Lynch.
A release date has yet to be set for the "Dread and Terrible" EP. "We are maintaining online activities focused on promoting the artist while the artist focuses on making great music," said Pierre Bost, Zinc Fence's label manager and a member of Chronixx's management team alongside Kingston-based Brendon "Daddi Barnz" Sharpe and Esther "Keke" Tomlinson. "We are very excited about the EP, but things need to be structured as we look for a distribution deal and admin deal for his publishing."  Former European marketing maanager for New York-based reggae indie VP/Greensleeves Records, Bost handles Zinc Fence's promotion and marketing in all territories except for Jamaica, where it is handled by Sharpe and Tomlinson.
The first single from "Dread and Terrible" is "Here Comes Trouble" and was previously released on the digital compilation "#SaveReggae Volume 1" (21st Hapilos) features a one drop rhythm and was produced produced by Winta James. The track topped the BBC's digital urban station Radio 1Xtra chart, is in rotation on Sirius XM's reggae channel The Joint and will get a further push this week with its official video release.  Reggae industry veteran Johnny Wonder CEO/Founder 21st Hapilos Digital Distribution says Chronixx's ascendancy is "giving roots reggae a greater shot for a larger audience; people are embracing him, now we just need it to get bigger."
Island Records' founder (turned hotel and rum magnate) Chris Blackwell is also impressed by Chronixx, describing his music, in an email to Billboard.biz, as "completely fresh, uplifting and very pure," adding that "it's fantastic for someone so young to be able to communicate his message in the way he does and entertain at the same time."
Chronixx met with Blackwell following the artist's June performance at Blackwell's idyllic GoldenEye resort, located on Jamaica's north coast. Neither the artist nor his management would comment on the meeting. "We are taking the time to figure out the best people to work with to put the music on the platform that we envision it," Chronixx stated. "As of right now, I am unsigned and independent; I want to explore my sound without any restrictions."